71st STLE Annual Meeting
点击次数:2577 更新时间:2016-04-22
71st STLE Annual Meeting and Exhibition will be held in Las Vegas, Nevada (USA) at the Bally's Las Vegas Ho & Casino, May 15-19, 2016.
This five-day conference(Sunday-Thursday) showacses more than 500 technical papers, application-based case studies and best practice reports, and discussion panels on technical or marcket trends. Education courses support professional development needs and prepare individuals for one of STLE's four certification programs. Exihibits and commercial presentations spotlight the latest products and services of interest to lubrication professionals. Business networking is an invaluable part of the STLE meeting experience. For many people, their STLE relationship are thr problem -solving resource that they use on the job every day. STLE'S Conference is a truly international event, with some 1600 professionals from the around the world attending.
Register Online Now! (Pricing)
Early Bird Deadline: April 14, 2016
2016 STLE Annual Meeting & Exhibition - Keynote Address
Technical Director for NASCAR's Earnhardt-Childress Racing (ECR) Engines
Named Keynote Speaker at STLE 2016

The Society of Tribologists and Lubrication Engineers announces that Dr. Andrew L. Randolph, technical director for Welcome, N.C.-based, Earnhardt-Childress Racing (ECR) Engines, has been named the keynote speaker at the 2016 STLE Annual Meeting & Exhibition, May 15-19 at the Bally's Ho & Casino in Las Vegas, Nevada.

Dr. Randolph received his doctorate in chemical engineering from Northwestern University in 1985, specializing in the combustion properties of alcohol/diesel and alcohol/oil blends. During a 30-year career at General Motors and in NASCAR, Dr. Randolph's work has ranged from fundamental engine research to mass-production engine development, including Wankel rotaries to Pro Stock drag engines.

Dr. Randolph is a strong advocate of applying scientific principles to engine development, and is widely regarded as one of the foremost applied combustion experts in the world. He has contributed to five NASCAR Cup championships with three different teams. Since 2008, he has served as technical director for ECR Engines, leading a development team that defines the engine architecture for the Chevy engines supplied by ECR to NASCAR and a variety of other racing series.

He has authored over 20 technical publications and received five oral presentation awards from the Society of Automotive Engineers (SAE).
2016 STLE Annual Meeting Program & Registration Brochure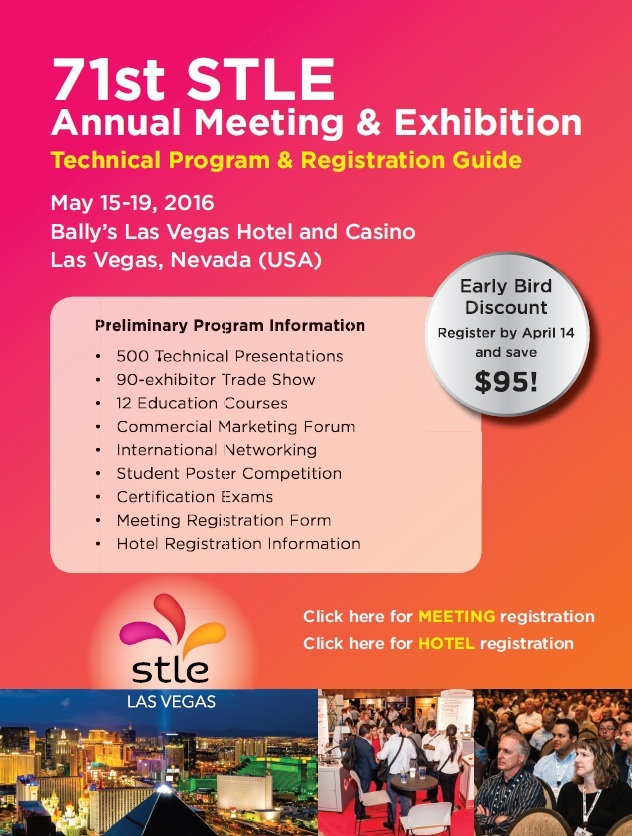 Plan your Itinerary NOW for the 2016 STLE Annual Meeting & Exhibition. Find details on more than 500 technical presentations, the 90-exhibitor trade show, Commercial Marketing Forum, 12 education courses and much more that will be offered at STLE2016. Access the DIGITAL or access the PDFs using the links below.

The brochure's contents include:
- Introduction
- Daily Schedule
- Monday Technical Sessions
- Tuesday Technical Sessions
- Wednesday Technical Sessions
- Thursday Technical Sessions
- Author Index
- Committee Information
- Education Courses
- Trade Show Details
STLE 2016 Single Day Registration
Limited time to attend the Conference, or spending most of your time working at your exhibit booth?

STLE's Single Day / Course Only option allows you to register for just the education course you wish to take, or enjoy the benefits of general attendance for a single day of the event.

If you know you'll be coming, but not sure how much time you'll have free from your other duties, this is the choice for you.

Register now to take advantage of Early Bird pricing (until April 14, 2016).
Transfers to another day, or course available up until first day of the meeting. Lock in your pricing now and your schedule up to the day prior to the event. Regular cancellation fees apply.

Regular PDF form

See full price list
When:
2016/5/15 8:00 - 2016/5/19 19:00
Where:
Bally's Las Vegas Ho & Casino
Las Vegas, NV United States